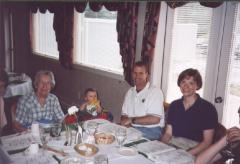 On August 2nd most of us Turners travelled to Gail & Rico's place in Connecticut for the day. The special occasion was a visit from Greg and Dee Ann Slover with their baby Will on his first visit east.
Above, Grandma Turner is shown with the Slovers.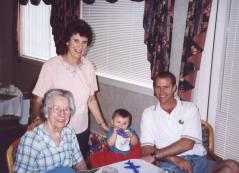 four generations
Tripyramid hike
On August 13, Scott, Kevin and Phil hiked the Tripyramid loop, a challenging hike in New Hampshire's White Mountains. The mountain is so named due to its three distinct summits. The loop trail goes up to the north summit, traverses to the middle and south summits, and then descends. Both the ascent and descent routes follow old rockslides.
The weather started out sprinkly, partially wetting the rocks on the tricky lower part of the North slide. These trails are just plain dangerous in the rain, because you need all the grip that dry rocks provide. But the weather promised dry periods later on, so we persisted.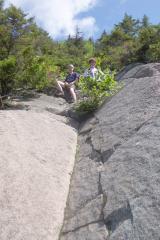 Above, we have reached the upper part of the north slide and the rocks have mostly dried out. Philip and Kevin are at the top of a dihedral which was a relatively easy part of our route.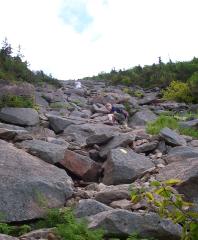 At times the route up the north slide appears to be a ladder to the scudding clouds.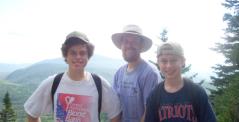 Kevin, Scott, and Phil at the south slide (descending)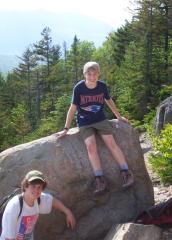 The south slide is full of rocks and boulders of all sizes.
On the south slide we found the track of a dramatic event which must have been brought on by recent heavy rains. The first thing we noticed was a depression in a gravelly part of the slide, about two meters (or yards) in diameter. It looked as if something enormous had recently made a footprint there. It couldn't have been a human trace, because the lack of footprints made it clear that we were virtually the first visitors since the rainy spell. We began to wonder whether a huge boulder had bounced in that spot, but it was hard to imagine.
Keeping our eyes open for more signs of what had happened, we descended and found trees knocked down to the right of the slide. We followed the path for about 100 meters (or yards) and there, not far from the trail, was the boulder!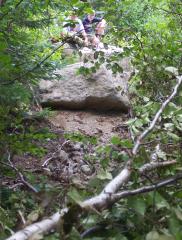 It was difficult to take a photograph of the path of damage to vegetation, and of the disrupted soil and rocks. Above, Kevin and Phil are sitting on the 2-meter boulder that made preciptous descent. In the foreground is a branch from a tree that it knocked over. A 1-meter boulder in between makes the large boulder hard to see. The large boulder hopped over the smaller somehow, which may have helped bring its journey to a halt.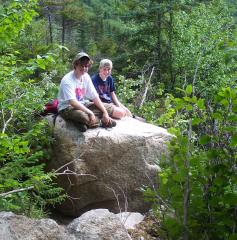 Kevin and Phil in a clearer view of the large boulder that made the fall. Heavy rains have already washed the newly-exposed surface, removing signs that a week or two ago this boulder was in a completely different place.