(Click any photo to enlarge.)
This Christmas we had the pleasure of Kevin's return from a semester in Japan, and added to that Jocelyn and Steve visited from Maryland. We worshipped Jesus at church, sang carols at home, and visited Grandma Turner. Kevin presented his time in Japan as a "slide show" in two parts. We played games regularly, including Mexican Train, Sequence, hearts, and Blurt, with Kevin and Steve having a lot of success.
Jocelyn's photo collection records some of the above.
Visiting Gail & Rico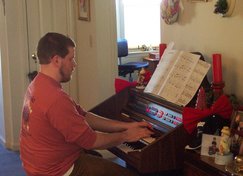 Steve tried out Gail's organ.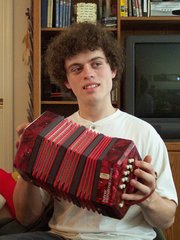 Kevin tried out Rico's concertina.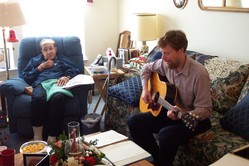 Scott sang "The Circle Game" with his guitar. Later on, Steve and Jocelyn sang a Nativity piece from Orthodox liturgy.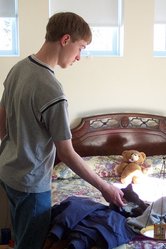 Phil and Mittens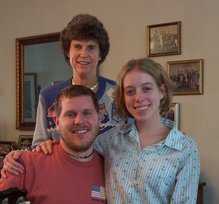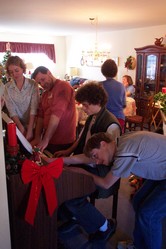 more fun at the organ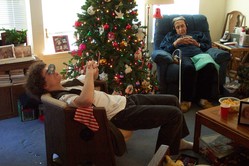 Evidently inspired by Rico, Kevin took a few minutes to rest, adding his unique style with a slinky.
New Year's Eve
We played the traditional game of Rail Baron, while the television showed "The Sound of Music".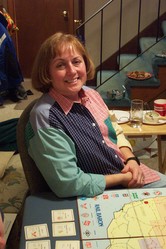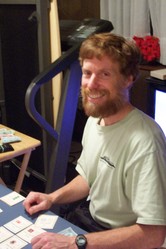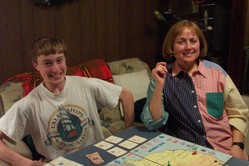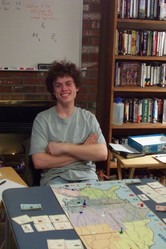 Midway through the game, Kevin already has Superchief and the most money.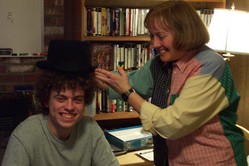 Hail the Rail Baron!