(Click any photo to enlarge.)
Kathy and I drove Phil to Houghton College for his first semester there. It's a milestone for him, and also for us, as we will be without children at home for the first time in 24 years.

The day before arriving at Houghton, we had lunch at an excellent Italian restaurant in Albany. So for supper we kept it simple and ate at Denny's across from the Holiday Inn near Rochester.

Phil is hurrying out of his dormitory, Rothenbuhler, to catch up with me.

In line at the bookstore.

A pause at the upper entrance to Rothenbuhler.

Phil's bed, desk, and dresser

Getting the computer set up.

Walking to chapel.

Saying goodbye on the Houghton campus.
The next day Kathy and Scott took the opportunity to visit the nearby New York wine country. We got an early start and toured the grounds before going inside to sample various wines.


The Goose Watch Winery overlooks Lake Cayuga.

The winery even has a dock for boaters to visit.
The Turners Visit with Jocelyn & Steve
We put off our summer vacation because the best opportunity to visit Jocelyn and Steve was the fall. So the last week in September we headed to Maryland.

We ate out at Jocelyn and Steve's favorite Japanese restaurant.

For the first part of the week, Steve and Jocelyn worked, while Kathy and Scott toured.


Kathy at the Broadway fish market

Kathy making shrimp cacciatore

The day after Baltimore, we visited Annapolis, the capital of Maryland. A highlight was the Paca House, once the home of one of the signers of the Declaration of Independence.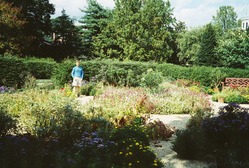 After a guided tour of the historic building, we strolled through the restored landscape and gardens.


A delightful surprise was the large number and variety of butterflies attracted by the gardens. Dozens of butterflies, and everywhere you turned another species. Above, a butterfly hides behind a flower.


Click for a short movie of the butterfly, 27MB.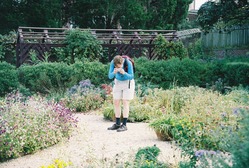 Kathy and Scott lounging around Jocelyn and Steve's apartment
Later in the week we all camped at Greenbriar State Park near the Applachian Trail. On the second day of camping, Scott, Steve, and Jocelyn went for a hike.


Click for a short movie of Steve and Jocelyn demonstrating how to find joy in hiking. 30MB

Crossing I-70 on the Appalachian Trail

Singing Beatles songs at the campfire

Kathy cooking supper
We visited Antietam National Battlefied.


Steve and Kathy observed reenacters of a confederate army unit.


Steve pondered one of the many monuments to those who fought.

Kathy loved the chance to amble through the countryside on a beautiful day, devoting time to an awareness that this is the "sunken road" where some of the deadliest fighting of the Civil War occurred.


Later we had dinner at the Cozy Inn, near Camp David.