(Click any photo to enlarge.)
In August we travelled to Pennsylvania for four nights of camping with all of our children, including Jocelyn and husband Steve and their children.
On Friday the 12th the men rented kayaks on the Delaware River, while the women and little ones visited a park with several nice playgrounds.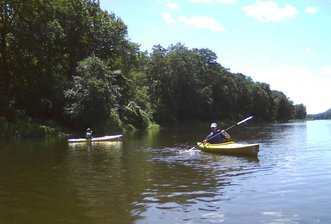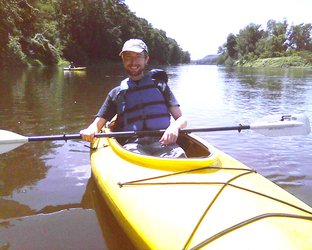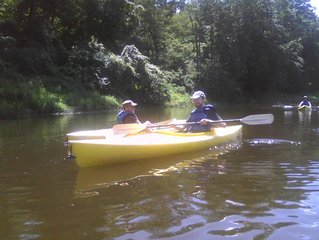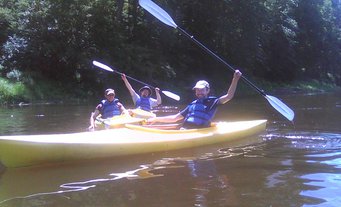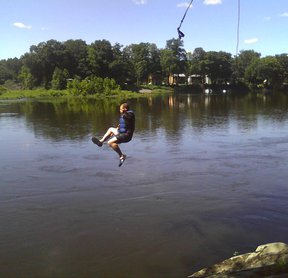 Steve (in photo) and Kevin tried a rope swing that was hanging over a tall rock face.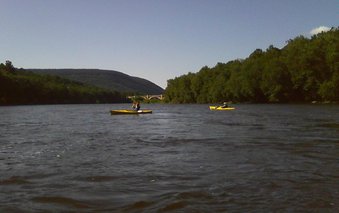 Near Delaware Water Gap are class 1 rapids at Arrow Island and at the railroad bridge. After the excitement of the rapids we drifted east with the clouds, while riffles reminded us of the water's motion.
On Saturday, Jocelyn photographed a wedding reception. Everyone else headed off to Bushkill Falls for a hike. The many steps down and up slowed us so that we were more among tourists than hikers.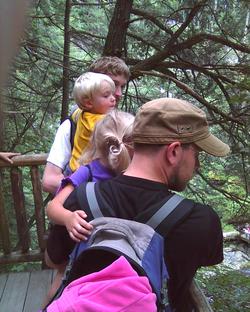 at a lookout over the 100-foot-tall falls
Above the falls, we took a break near the stream.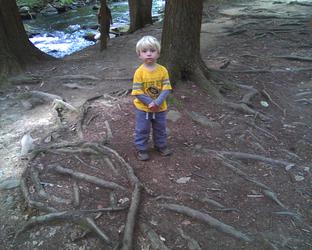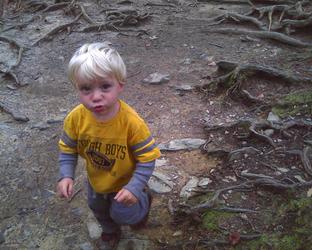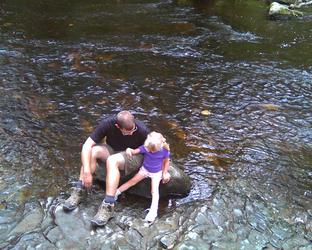 father and daughter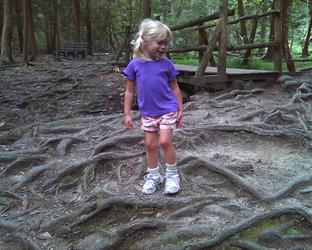 singing a song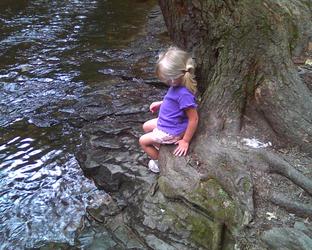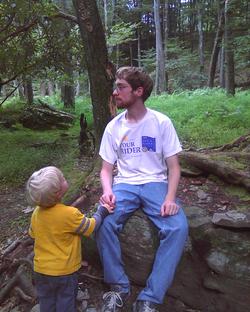 Uncle Philip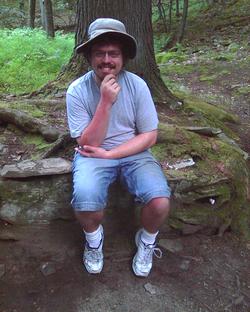 Kevin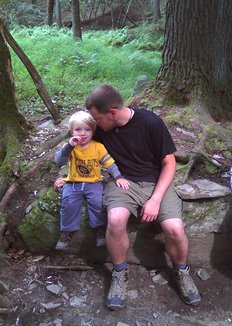 father and son
At the end of the hiking, the rain moved in. We returned to the campsite, where we reinforced one overhead tarp and added another. Granddaughter kept singing "Rain, rain, go away" very cheerfully. Steve cooked the meat for our Mexican-style dinner.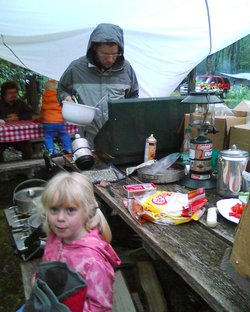 We enjoyed several campfires, particularly Sunday morning after the night of rain.
On Sunday afternoon, we all joined the celebration of Amy and Lyn Montague's 40th anniversary. Outside, it poured rain.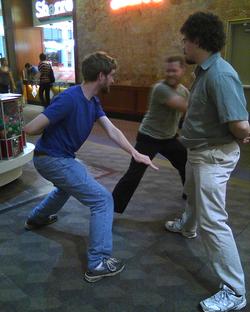 Afterward, we hung out at the Stroud Mall, where the young men played a sparring game called "Ninja".
Rather than cook and clean up from supper in the rain that evening, we ate at Panera. Returning to our campsite, we put the kids to bed and played Sequence and Apples to Apples. Phil lost at Sequence and won at Apples to Apples.