Messiah College, 2004 May 14-15
(Click any photo to enlarge.)
Travelling delays led to the Turners' arrival at the Friday evening baccalaureate service moments before it began. Along with scores of others, we were turned away from the auditorium and found seats in the cafeteria near a large-screen video display of the event. We did not know that Steve was saving seats for us, and that Jocelyn was wondering where we were.
When Jocelyn took the podium, it was a thrill to listen to her read the familiar life-giving words from the apostle Paul's letter to Ephesians, chapter 2 verses 4 to 10, and realize how our Jocelyn is fulfilling her parents' hopes over the years raising her.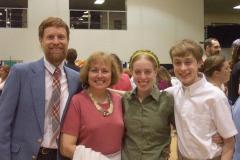 We met up with Jocelyn at the reception following the baccalaurate.
Later, we went out to Ruby Tuesday's to celebrate with Jocelyn's roommates Sonja and Raina, and their families.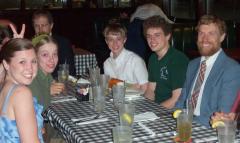 Above is Sonja with Jocelyn, Phil, Kevin, and Scott.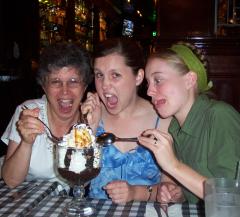 Sonja's mom, Sonja, & Jocelyn dig into a treat.
The next morning, the commencement ceremony was held under a muggy sun, with clouds that rarely blocked the heat. Our umbrella was one of many that were enlisted for protection. We were proud to see Jocelyn listed in the program as Magna Cum Laude and as a Boyer Scholar. The latter is an honor awarded to 24 students college-wide.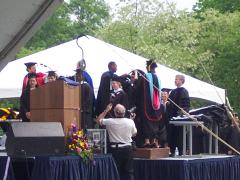 The highlight, of course, was seeing Jocelyn receive her diploma.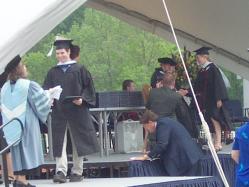 Jocelyn shakes the hand of president Sawatsky.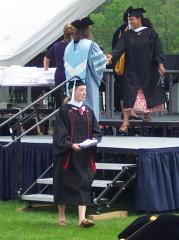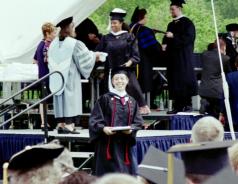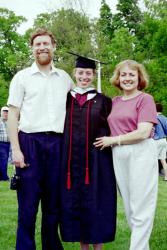 Dad, Jocelyn, and Mom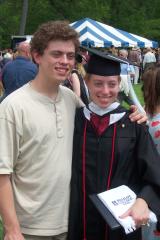 Kevin and Jocelyn: Note the diploma comes with a towel, a Christian symbol of servanthood.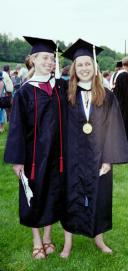 Jocelyn and Sonja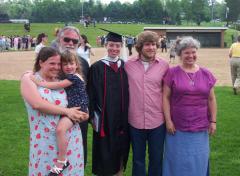 with the Mathewes-Green family: Megan, Hannah, Father Gregory, Jocelyn, Steve, and Frederica
Following the ceremony was the post-graduation traffic jam and exodus. The Mathewes-Greens had come in three cars, and we were glad of it when packing up for the move to the new apartment. For the next week, it's all stored in the Mathewes-Greens' garage.