(Click any photo to enlarge.)
(Some photos lost in disk crash.)
Birthday Event in Cromwell, CT
Lyn, Amy, and Scott journeyed to Gail's place, where she hosted a celebration of Lyn's and Scott's July birthdays. We missed Kathy, who stayed behind to rest and promote a good recovery from her surgery.
We had a very nice brunch at Covenant Village.
Pat, one of Gail's friends, has a view of a robins' nest from her apartment. After lunch we took advantage of the opportunity to view the three 10-day-old hatchlings.
Gail served fresh fruit in lieu of a birthday cake, and played "Happy Birthday" on the organ.
The Regular Birthday Party, in Natick
Juris and Judith joined the family for a traditional Turner/Batchelder birthday celebration. We waited for the weekend when Phil could join us.
Dinner was grilled shrimp and vegetables, with fresh local corn on the cob. Judith brought a delicious salad.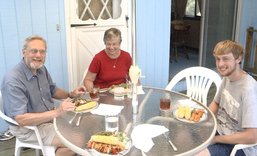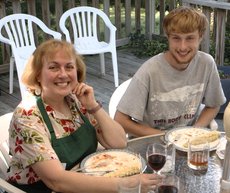 After dinner comes the game picked by the birthday geezer. He picked Clue.
As the game drew to its climax, Phil felt under pressure to make an accusation and made an unlucky guess. Then Scott felt pressed to make his attempt, but misread his notes, costing him the game. Juris persevered and won with a conservative strategy.