(Click any photo to enlarge.)
Kathy and Scott spent a week in Maine, beginning at a cottage in Rockland, and ending with a whitewater rafting adventure based in Bingham.
Scott couldn't wait to do some hiking, so the first full day in Maine (Sunday) he hit the trail that he already knew of, in the Camden Hills. Kathy dropped him off below the Maiden Cliffs and he met her a few hours later in Camden, after he hiked 6 miles over Mount Megunticook. It was a hot day, though tolerable under the canopy of trees. The views were excellent, particularly looking over Megunticook Lake from the Maiden Cliffs, as well as over Penobscot Bay from the ledges of Mount Megunticook.
On Monday we had a meal of lobster at the Rockland Cafe, fresh, well prepared, and at a very nice price. Kathy got out her acrylics and was pleased to make good progress with a scene from Colorado.
Fernald's Neck Preserve
On Tuesday we went for an easy, pleasant walk in the Fernald's Neck Preserve, on a peninsula within Megunticook Lake.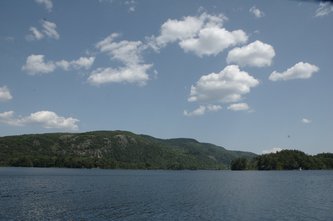 looking over the lake to the Maiden Cliffs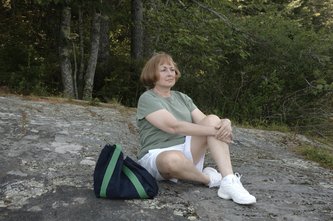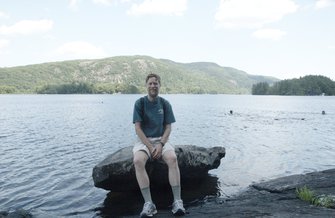 We stopped at a beautiful spot where the rocks slope into the lake, a popular place for swimmers. It was particularly lovely given the hot weather and the shade from the trees behind us.
Rockland Highlights
The next day we sailed on the ketch, "Morning in Maine" in perfect sailing weather, getting out into the rolling ocean waves. Along the way we saw harbor seals and a gray seal, and later on sailed close by an osprey nest. The nest was built on a large buoy so we were able to see the two young birds eye to eye.
The following photos were taken while cruising off of Owl's Head and show the lighthouse.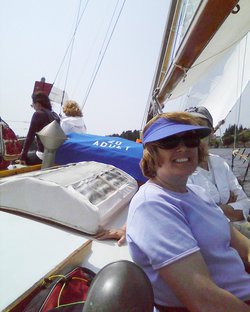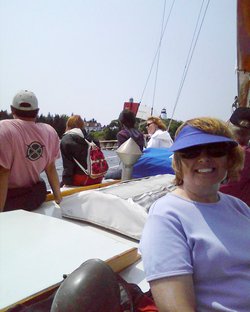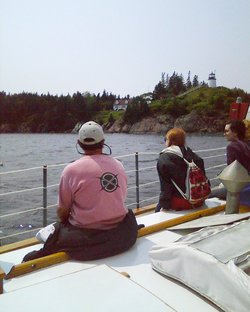 Later that day we had dinner at the Prism restaurant.
Kathy continued her painting, while Scott had recovered enough from his hike to get in some running at the nearby Beech Hill Preserve. This was also a good bird watching spot, and Scott saw a Savannah Sparrow, a Chestnut-sided Warbler, and heard plenty of other interesting birds.
Whitewater Rafting
We wound up the vacation by heading north on Friday for two days of whitewater rafting.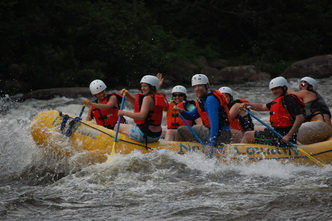 Saturday on the Dead River