(Click any photo to enlarge.)
The following photos are mostly by Jo.

Back in May, there was important news from Baltimore. This July being Scott's birthday, and the first visit from Steve and Jocelyn and Kevin in a long time, we lived it up!
The Concert
A few days after the White Mountains, the three backpackers were all cleaned up, and we attended the concert of the Young Artists Orchestra at Tanglewood. Our relative John B. was performing in a program featuring Mahler's Fifth Symphony. We loved the Monteverdi as well.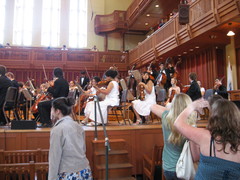 tuning up for John's concert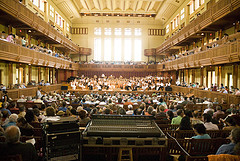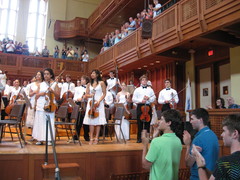 the ovation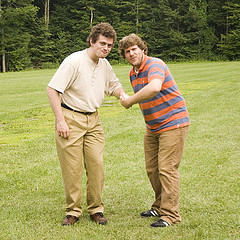 The young guys were like long lost brothers.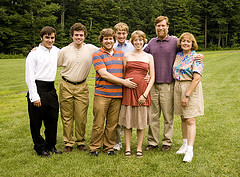 After the concert, we enjoyed the Tanglewood environment, where John B. had been staying for 4 weeks.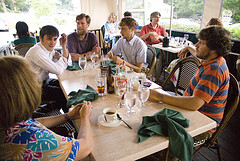 We went to dinner at the French restaurant in Lee. Among the entrées were three half-ducks and one burger.
Canoe Orienteering
The next morning's activity was the obscure sport of canoe orienteering. This was Steve's first time orienteering. Only competitive with each other, we hardly noticed as the national champions blew by.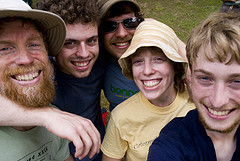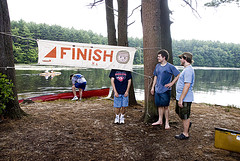 Afterwards, Phil masqueraded as the New England Orienteering Club troll.
Dinner at Home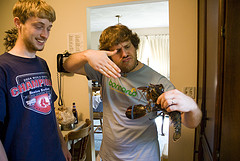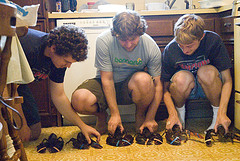 This was Steve's first time eating New England lobster, and as an experienced crab chef he took a hand in the cooking as well. When the pot came to a boil, the guys recreated Uncle Dave's lobster race.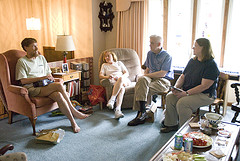 Amy, Lyn, and Gail (not pictured) joined in the occasion.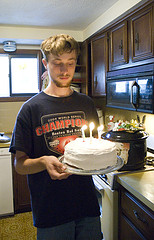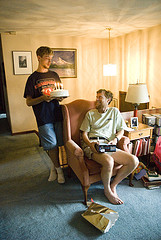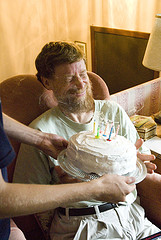 After the traditional singing of "Happy Birthday", smoke got in Scott's eyes.
Games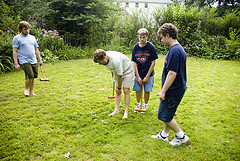 Festivities continued after dinner was cleaned up. All six of us played croquet, with Steve winning as Kevin ran into trouble on the final pair of wickets.
Later we played Sequence while "Red River" showed on the TV. Trays of nachos were served. Each of the three teams won one game.
The next day Kevin flew back early. The final game of the visit was Mexican Train, won by Phil.