(All photos of these events were lost in a disk crash.)
Rockport
We made a day trip to Cape Ann on a Saturday, to commemorate our 29th anniversary.
Kathy took in the local history. All nine seafencibles were taken prisoner by the British during the war of 1812.
Kathy remembers the Bearskin Neck area of Rockport from visits when she was growing up. A number of the shops have not changed much, and were a pleasure to visit.
She and Dave used to go out to the end of the jetty. This time Kathy didn't go, as her knees have lately been reluctant under stress.
Scott did go out on the jetty and got photos of boats and a gull. Actually, we came to Cape Ann with the intent of birdwatching, but didn't see much of interest in the avian line. Lots of cormorants and gulls were quite unremarkable. Some eiders were the best we found. A few other birds could not be identified.
Fish Shack restaurant
Lunch at the Fish Shack was a treat. Fried clams are excellent when they come with the bellies, and are prepared without transfats. The fishcakes and butternut squash were outstanding.
Framingham Turkey Classic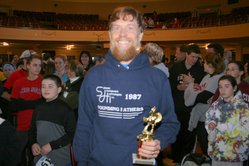 Scott won his age group in this 5K race Thanksgiving morning. The race has grown to 1000 runners, double what it was when he first ran it in 1999.