(Click any photo to enlarge.)
Thanksgiving
In addition to Phil's visit from West Virginia, the Dave and Marcella Mathewes family came from Georgia to visit Johnson City for the long weekend, making this an extra special holiday.
Hickory Springs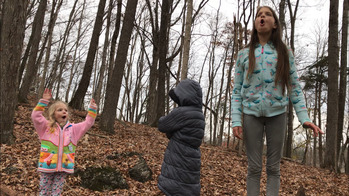 King and Queen of the Mountain
Click for video action.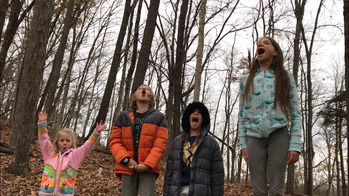 The Loudest
Click for video action.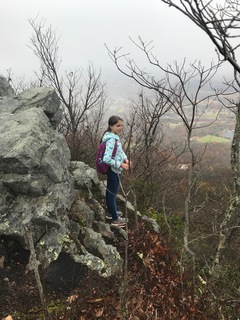 on the trail to White Rock, Buffalo Mountain
Bonus! The recipe that was a hit with the grandkids and several grownups:
Graham Cracker Pie
(Recipe makes 2 pies)
1 cup milk
1 tablespoon gelatin
3/4 cup sugar
2 well beaten yolks
1 tsp vanilla
2 stiffly beaten egg whites
1 pint heavy cream, whipped
Soak gelatin in milk for 10 minutes. Add sugar and scald (i.e. put over low heat until milk forms a "skin" on top. Remove from heat immediately — do not let it heat up to a boil.) Pour slowly over egg yolks, stirring steadily. Add vanilla. Add stiffly beaten egg whites and whipped cream.
Butter 2 deep pie plates generously. Line with graham cracker crumbs. Pour in mixture. A few crumbs may be sprinkled on top. (You can buy packaged graham cracker crusts in aluminum pie plates.)
P.S. Put the egg yolks in large bowl — then beat till they thicken somewhat. Everything else gets added into this bowl, so make it large enough. Beat egg whites and cream in separate bowls.
Notes
The above recipe is copied from Scott's card handwritten by his mother, Louise Comer Turner.
The recipe is from Scott's Great Grandma Nordbeck.
1 tablespoon of gelatin is 6/5 packet.
It can be convenient to beat the egg whites while the gelatin soaks.
Heat the milk slowly to ensure that the gelatin dissolves. It scalds at about 175°F.
3/4 of the above recipe more than fills one store-bought 10-inch graham cracker pie crust. 3/5 of the above recipe fills one store-bought 9-inch crust.
Two large mixing bowls are required for whipping the cream and for the final mixture which starts with the egg yolks. The egg whites are beaten in yet another bowl.
Notes say this takes 30 to 40 minutes, but don't count on it.
Preparations
Some preparations prior to beginning the above can be very helpful.
Leave the eggs out to warm to room temperature so that the whites beat up nicely.
Chill bowl and beaters to be used for whipping the cream.
Have home-made or store-bought crusts ready.