(Click any photo to enlarge.)
Camper-van Test
In March we spent a long weekend trying out a 19 foot camper-van, wondering whether it would be a good way to travel on our summer vacation. It has two beds, a stove, a sink, a microwave oven, a table with two bench seats, a toilet, shower, and a little bathroom sink. There is ample space for stowing kitchen and pantry items, at least when compared with our accustomed minivan.
The internal systems are engineered to work together amazingly well. For example, the hot water heater senses whether you are hooked up to outside water and comes on as appropriate. The refrigerator switches between on-board gas and the external electric supply.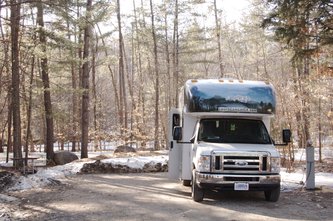 Here it is, with hookup to the right and our picnic table behind the snow to the left. We drove over 300 miles, getting used to it the whole way. Gotta use those mirrors, think when turning or changing lanes, and know where you're going ahead of time because when you see the sign it's likely too late.
It wouldn't be a proper test without having some fun. We played games during two of the evenings, with Kathy winning at Sequence and Scott at Scrabble. We shopped at L.L. Bean's outlet in North Conway. We went for a walk along the Swift River.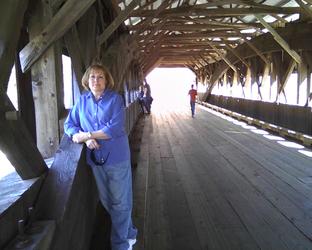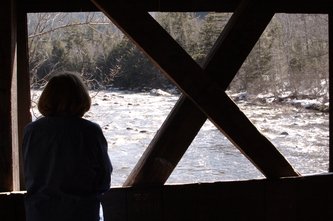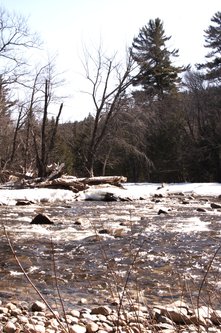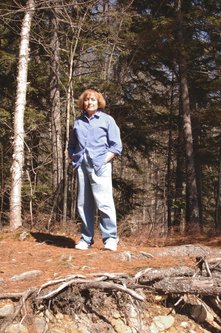 Don't get the impression that we avoided snow. Although the temperature was about 70, most of the walk was on a snow-covered road. Upon return we were glad to change into dry shoes and socks.